Information for Potential Officer Cadets

The University of London Officers Training Corps is open to undergraduates studying in London with at least two years of study remaining. We are a branch of the Territorial Army – offering broad military experience, adventurous training opportunities, and a fantastic social life.
Want to find out more? Use the links to the left to find out more about us.
Want to join us? We run an annual recruitment campaign in September and early October. We are currently not recruiting – but check back in the summer to sign up online.
We attend University Freshers Fairs – see below to see which Universities we attended in 2005.
– Download the Personal Details for here (MS WORD)
– Download the 2005 Introduction Evenings Information Letter here (MS WORD)
We recruit from the following:
Anglia
Brighton – Brighton and Eastbourne
Brunel
Bucks Chiltern – Chalfont & HW
City
University of East London
Essex
Hertfordshire
Imperial
Kent
King's – Guys
King's – Strand
Kingston
London Met
LSE
Luton
Middlesex
Queen Mary Westfield
Roehampton
Royal College of Music
Royal Holloway
Royal Vetinary College
SOAS
South Bank
St Barts
St Georges
St Mary's
Surrey
UCL – Gower Street
UCL Royal Free
ULU
Westminster – Harrow and Marylebone
We are currently not recruiting – but check back in Summer 2006 for our new recruiting season.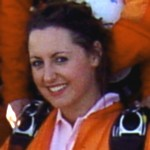 Elana Hartle-Fishman – KCL
'I've had so many incredible experiences this year – especially parachuting!